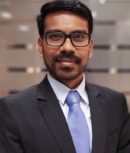 Vikas Mahendra
Partner, Bengaluru
Email: vikas.mahendra@keystone.law
Vikas Mahendra is a specialist arbitration practitioner and is a Member of the Chartered Institute of Arbitrators. He has experience of handling investment treaty and commercial arbitrations, both ad hoc and institutional, in India, South-East Asia, Central America, Africa, Europe and UK conducted under the UNCITRAL, ICC, SIAC, LCIA and the ICA rules of arbitration and the Indian Arbitration and Conciliation Act. He has acted for several market leaders in disputes relating to construction of power plants, water treatment plants, coal handling facilities, highways, dams, urban metro-rail lines, multi-purpose developments etc. Before joining Keystone Partners, he worked for over six years in the arbitration and litigation department in Herbert Smith Freehills' London, Paris and Singapore offices.
Vikas is dual qualified – he is admitted as an Advocate in India and as a Solicitor in England and Wales. He graduated from the National Law School of India University, Bengaluru, with top honors in 2008 and received gold medals for best all-round graduating student and outstanding personal achievement. He completed his masters in the European Masters' in Law and Economics program in 2009 where he was ranked first across the program and was awarded the best thesis.
Vikas is part of the list of arbitrators maintained by the HKIAC and the reserve panel of arbitrators of SIAC. He is also regularly invited to speak at conferences organised by arbitration institutions such as the ICC, LCIA, SIAC and CIArb and provides training sessions to public and private sector undertakings. He recently assisted the High-Level Committee constituted by the Government of India to review institutionalization of arbitration in India. He also regularly teaches a course on International Commercial Arbitration at the National Law School of India University, Bengaluru. He regularly publishes blogs and articles on arbitration related topics and has co-authored a chapter in a book on Arbitration in Singapore published by Sweet & Maxwell, and in a book on Arbitration in India by Kluwer International.
Vikas is also the Co-Founder of Centre for Online Resolution of Disputes (CORD). CORD is an institute with an online platform at its heart, that allows businesses and customers access to fair, expeditious and affordable resolution mechanisms.